Webinar #SelasaStartup How Edtech Startups Steal a Spotlight in the Pandemic
Bersama Tomy Yunus, Co-Founder & CEO Cakap
Webinar #SelasaStartup merupakan acara mingguan yang diadakan setiap hari Selasa dengan menampilkan tech founder dan pelaku industri untuk dapat memberikan insight kepada komunitas teknologi DailySocial.id. Selama pandemi covid-19, webinar #SelasaStartup diadakan secara online melalui youtube channel DailySocial.id secara live.
Pada sesi webinar #SelasaStartup kali ini DailySocial.id mengundang Tomy Yunus, Co-Founder & CEO Cakap dengan mengusung tema How Edtech Startups Steal a Spotlight in the Pandemic.
Cakap adalah sebuah perusahaan startup pengembang aplikasi edukasi teknologi asal Indonesia yang berfokus kepada pendidikan dua arah secara daring.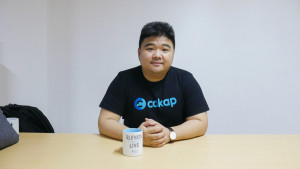 Webinar ini akan membahas mengenai bagaimana kondisi pandemi dapat mendorong startup edtech untuk semakin berkilau, terutama yang menyediakan berbagai pelatihan untuk meningkatkan skill dan kemampuan penggunanya. Akan dibahas pula mengenai perubahan perilaku pengguna layanan edtech secara umum sejak pandemi berlangsung dan masyarakat lebih banyak menghabiskan waktu di rumah, serta perubahan strategi seperti apa yang dilakukan Cakap untuk dapat mempertahankan bisnisnya.Daftar segera di loket.com/event/dsxck

Are you sure to continue this transaction?
processing your transaction....